Call center outsourcing vendors
Bluechip Call center is a renowned call center outsourcing vendor and offers a wide array of business process outsourcing services to clients spread across diverse business verticals.
We follow globally accepted quality standards and benchmarks while delivering call centers outsourcing services to our clients. As a well-known world class call center, we ensure that all our solutions and services follow the parameters and standards accepted by organizations located on any part of the globe.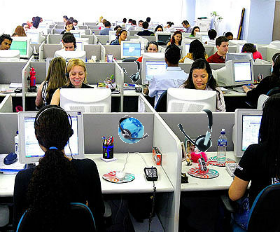 We have numerous clients spread all over the world and deliver them outsourced call center solutions from our
call centers in America
and India. Our aim is to deliver complete satisfaction to our clients and we make sure that we achieve it in each and every business engagement. It is because of this dedication that we have the highest percentage of repeat business in the industry.
Bluechip Call Center has made a special position for itself in the BPO industry and has become one of the most trustworthy
outsourced call centers in India
for organizations from all over the world.
We follow well crafted strategies and methodologies for delivering call center solutions to our clients. First, we understand the requirements of the process, the type of solutions that customers expect and the return that our clients hope to get on their investments.
After the analysis and research activities we move on to implementing the plan and strategies that we believe to be the best for our clients. The top management at Bluechip gets personally involved at this stage and ensures that each strategy is implemented flawlessly.
We deploy only the most suitable call center executives for our client projects. Further, agents are first made to go through well designed training programs them educate them about the client process and train them for handling the tasks assigned to them. As we maintain a large of professionals having experience in delivering call center outsourcing services to overseas clients therefore we are able to deliver quick turnaround time to our clients.
If you want to outsource call centers to India then choose
Bluechip Call Center
and leave all your outsourcing troubles to us.